Online Poker Room
Rating
Bonus
Payout
Compatible
Visit Room
Q: Is gambling online legal in South Africa?
A: Players should proceed with any SA sites with caution. The most recent law states that the mere act of online betting is illegal, though players have never been prosecuted for their actions. Legitimate gambling sites have been held to the letter of the law, however, which means few firms are able to offer legal online gambling to South Africans. There are current attempts to change the law, but for the meantime, gamblers are playing a wait-and-see game.
---
Q: How can I deposit and withdraw from sites legally?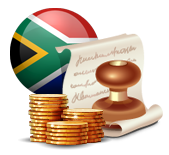 A: There are some third-party payment processors that will facilitate online gambling legal site transactions for players in SA. While language relating to banks and their part in the gambling business as it pertains to legit transactions is unclear, there are some companies willing to help players with their deposits and withdrawals. Caution is advised, however, depending on the government's willingness to track such financial moves of late.
---
Q: Is gambling online legal for real money?
A: There is no distinction in the current law between play money and real money online sites. Many sites do cater to South African players with free money activities, and some of those players then transfer their business to the real money wing of those sites. The law does not condone real money online gambling, so players should check with local authorities for the up-to-date regulations and how it affects them.
---
"Players have been flocking to legal online gambling sites recently to play poker."
---
Q: Is online poker legal in South Africa?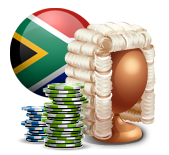 A: Online poker is a growing industry, despite the laws. Players have been flocking to legal online gambling sites recently to play poker, but current laws do frown upon such activities. On the other hand, the argument that online poker is a game of skill may be legit and have legal standing in courts, though it has yet to be specifically tested or indeed find any success.
---
Q: Is online sports betting legal in South Africa?
A: Yes. Sports betting is legal in the country with licensed and legal online gambling companies. Most are based in South Africa, and they include horse racing in the list of legitimate gambling betting events. International sports betting sites need to obtain a license, so players should be aware of whether their favorite online gambling legal rooms are able to offer their services in their area.
---
Q: Are casino games legal in SA?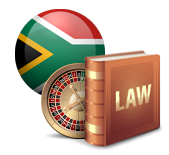 A: This falls under the most recent gambling laws passed in the south of the continent that attempt to restrict gambling online legal offerings. Players should use caution when deciding to gamble online, whether it is a legitimate site or not. As of February 2017, the law is still changing, as is the decision of the authorities to pursue gambling crimes. For Africans looking to enjoy their favorite pastimes online, It's still very much a case of 'Watch this Space'.