Online Poker Room
Rating
Bonus
Payout
Compatible
Visit Room
Q: Is gambling online legal in Canada?
A: As of February 2017, official Canada law ambiguous on the online gambling legal situation. Canadian companies are only permitted to have a license through individual provinces, and several of them are busy establishing their own online gambling platforms. However, nationwide, the law is not specific to gambling online, which is why many players move to Canada from overseas. The best advice for CA players is to check with your local gaming commissions.
---
Q. Is making deposits and withdrawals from online gambling sites legal?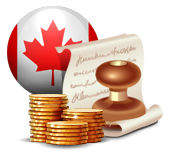 A: Making legitimate gaming transactions is presumed to be safe, and many payment processors offer quick and easy funding options for Canadian gamblers. Some major credit cards from Canadian players are accepted too. The only problem you'll have is choosing from the wide range of banking options available.
---
Q. Is gambling online legal for real money play in Canada?
A: Yes. Millions of players proudly play poker and bet on the net with their own Canadian dollars. The option to play for real money on the web is popular, and players should feel safe doing so. When it comes to online gambling, legal Canadian sites have not had the same payment processing problems as other countries have - just one of the many reasons gamblers migrate to Canada to enjoy Internet betting freely.
---
"Millions of players proudly play poker and bet on the net with their own Canadian dollars."
---
Q. Is online poker legal in Canada?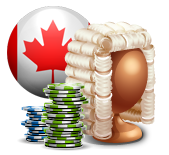 A: Poker is not specified in any particular online gambling law, at a national nor provincial level. Just as players enjoying gambling online legal games, they can also play poker. Most players who come to Canada for access to legal online gambling sites do so to play Internet poker, as they tend to be professional players. This has boomed in recent years following the United States' draconian UIGEA bill which prevented many US players enjoying poker online in their own country. Regions such as the Mohawk territory of Kahnawake outside Montreal, meanwhile, have many poker cardrooms offering games to players.
---
Q. Is sports betting on the web legal in Canada?
A: Land-based sports betting establishments are illegal in Canada, and while some speculate that the same activities would not be legal, there are many legitimate sports betting sites that cater to Canadians. Large sporting organizations do not lodge the same type of strong opposition to sports betting as in the United States, so online gambling sites do not face the same legal hurdles further north. Players should, however, check with the specific laws of their home provinces.
---
Q. Are online casino games legal in Canada?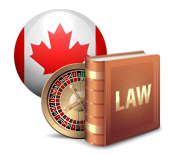 A: The Canadian online gambling legal status might be a little unclear because of confusing laws relating to betting on the Internet. Casino games are offered by almost all legit online gambling sites that cater for Canadians. Players have never been targeted by the government, and companies that operate offshore have not yet faced any legal battle over providing online casino games that one would find in any of the land-based establishments in Canada.