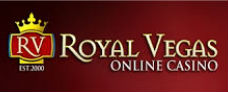 Royal Vegas
100% up to $1200
First Deposit: 100% match bonus up to $250
Second Deposit: 25% match bonus up to $200
Third Deposit: 50% match bonus up to $750
Receive an extra 10% up to $100 for using one of the preferred banking methods.
See Bonus section for terms and conditions for withdrawal.
Royal Vegas Review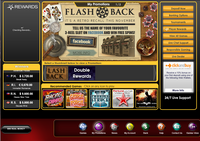 Even if you do most of your casino gambling online, you probably get an urge every so often to fly out to Vegas for the real thing. After all, nothing can quite compare to playing your favorite slots and table games in the gambling capital of the world. But that entails a costly trip and maybe the timing isn't right either. Now, however, you can find a close approximation conveniently available 24/7 without even having to leave home. All you have to do is log onto Royal Vegas Casino!
New casinos keep popping up online every day, so without a proven track record, it is hard to tell whether a new site you know nothing about is reputable. With Royal Vegas, you don't have to worry because this venerable casino has been attracting loyal online customers since 2000.
Royal Vegas Casino is licensed by the Lotteries and Gaming Authority of Malta. Like its sister casino, Platinum Play (reviewed elsewhere) and several other casinos, it is a member of the esteemed Fortune Lounge group of casinos.
You have as much chance of ever being bored in this casino as you would in Las Vegas. Royal Vegas is home to more than 500 games of every variety imaginable, more than you will find in many land-based casinos (even in Las Vegas). In addition, your membership in the Fortune Lounge gives you access to some exclusive tournaments open only to Fortune Lounge players.
Unsurprisingly, with so many things going for it, Royal Vegas has become a popular online gambling destination for players in many countries. However, U.S. players seeking the 'Royal Vegas" treatment will have to go to Las Vegas.
---
"Royal Vegas has you covered with a wide assortment of both familiar favorites and interesting variations."
---
Software and Range of Games
Since its inception in 2000, Royal Vegas casino has been powered by the highest quality state-of-the-art software from Microgaming. But In case you are now thinking that the software and games might be dated because the casino wasn't created yesterday, don't be. Both the continually updated software and expanding repertoire of games reflect the latest advances in online casino technology. If nothing less will suffice than superior graphics, animations,, and sound quality, combined with as wide a range of games as you will find anywhere online, you will have come to the right place.
The user friendly software can be downloaded onto your computer anytime day or night and, in minutes, you will be all set to fund your account and start playing. Or, if you prefer, you can select the no download instant play flash version, as well as play on your mobile device. Either way, you will still be able to play many of the games. But if you want to access all of the games, the downloaded version is where you will find them.
Then, what a choice you will have. But deciding what game to play first won't be easy. This casino has more than 500 of them!
If you love the slots, the generous 3 part Welcome Bonus paying up to $1,200 can give your starting bankroll a nice extra boost early on. Choose from traditional 3 reel slots, action packed 5 reel video slots, or any of the more than 20 progressive slots. All of the progressives at Royal Vegas belong to Microgaming's own shared central player pool to give you as good a shot as anyone at some enormous jackpots. In addition to the mega jackpots, frequently paying over $1,000,000, there is nothing shabby about the smaller jackpots.
As if all that isn't enough, every month Microgaming adds new games to the mix. Some of them are released to Royal Vegas first, so as a Royal Vegas player, you can be among the first to try them.
If you would rather play table games, Royal Vegas also has you covered with a wide assortment of both familiar favorites and interesting variations. There is far from just one way to play blackjack and roulette, and Royal Vegas gives you the opportunity to try several of them. For example, you can play Atlantic City, European, or Vegas Strip blackjack. But first, to maximize your chance at winning, be sure to check the rules and any playing strategy changes. If roulette is your preferred game, you can play American Roulette, with a double 0 or the more favorable to the player European or French Roulette with just a single zero. For even more action and more chances to win, you can play multi-wheel roulette with up to 8 wheels spinning for you at once. You can also play Roulette Royale with a shot at a huge progressive jackpot.
Lastly, the Live Dealer versions of roulette, blackjack, and baccarat are not to be missed. You can even select a Playboy bunny to be your dealer or croupier if you so desire. As soon as you start playing and see the wheel being spun or cards being dealt, and, even more incredibly, have begun a conversation with the dealer or other players, your online experience will reach a whole new level. It won't feel like you are sitting in front of your computer at all, but in a real casino in Las Vegas.
Security and Fair Play
When you go to a showroom to buy a new car, looking at all the models and trying to decide which one to drive off in, the last thing you want is a lemon. The same applies to picking and playing online casino games. Quantity without quality wont get you anywhere except to the poorhouse.
At Royal Vegas, all of the necessary checking has been done for you. The eCogra seal of approval is your assurance that all of the games are fair and that the casino is reputable, trustworthy, and safe. With average payouts for all games combined of 96%+, it is clear that players at this casino can and do win often. The eCogra reports are updated monthly, so you can check them yourself on the website.
Another important consideration is the security and privacy of your financial transactions. At Royal Vegas, you have a wide range of secure banking methods at your disposal. With the casino's advanced digital encryption technology in effect, you can choose any accepted banking method and know that both your personal information and financial activity are protected.
Promotions and Customer Support
Welcome Bonus
Unless you are completely new to online gambling, you should already be familiar with what the Welcome Bonus is. The extra money the casino offers to fund your play in the form of a Welcome Bonus is the casino's way of convincing you that their site is a great place to play. Welcome Bonuses come in all formats and sizes, but the one thing they all have in common is the intent to get you to play in the casino. You can't just make token bets, cash out, and walk away with the money. All online casinos impose playthrough requirements for withdrawal. However, the terms and conditions vary greatly.
Royal Vegas offers a 3 part Welcome Bonus that is both substantial and reasonable. The following is a brief summary of how the bonus is set up and what you have to do to access both the bonus itself and any money you win with it.
First Deposit: 100% match bonus up to $250 on a deposit of $250 or more
Second Deposit: 25% match bonus up to $200 on a deposit of $800 or more
Third Deposit: 50% match bonus up to $750 on a deposit of $1,500 or more
Also 10% bonus up to $100 on first deposit using one of the preferred banking methods
All 3 deposits must be made within 7 days of opening your account.
Required playthrough for withdrawal: 40x bonus
As great as the $1,200 bonus sounds, be forewarned that it requires your also depositing a substantial amount of your own money followed by heavy play. Furthermore, in order to receive the maximum $1,200 bonus, you must make 3 separate deposits to your account, all within 7 days of signing up, adding up to $2,550. In addition, each bonus must be played through 40x before you are permitted to withdraw either the bonus or the associated deposit and winnings.
Actually, you can bring your Welcome Bonus up to $1,300 by using one of the preferred banking methods and making your first deposit $1,000 instead of $250 (for a minimum first week total deposit of $3,300). On the other hand, if this level of play is too steep for you, simply make smaller deposits and be content with a smaller bonus.
Note that only slots and parlor games (Keno and scratch cards) count 100% toward meeting the wagering requirements. Other games count substantially less. In other words, the Welcome Bonus is great for slot play, but virtually useless for non-slot play.
The Royal Vegas Welcome Bonus is still superior to what you will find at many other online casinos. Some casinos require the bonus to be played through a greater number of times. Others require a playthrough of both the bonus and the associated deposit, and some even then won't let you keep the bonus. So, in that respect, combined with the unusually high maximum amount of the bonus, even with the game restrictions and sizable play requirements, the bonus really is extremely generous.
One area where the casino could improve is in its description of the Welcome Bonus. The overly long and detailed text is hard to follow. There needs to be a succinct, clearly stated presentation that is more reader friendly.
If you need assistance, Customer Support in multiple languages is available to help you 24/7. You can access the service via live chat, phone, or email.
Loyalty Program
Royal Vegas patrons are rewarded for their play continually, not just opening week with the Welcome Bonus. Loyalty points are given out every time you play, and once you accrue enough of them, you can redeem them for free credits to your account. Slot games are rewarded at a faster rate than table games.
In addition, on day 1, every player is enrolled in the casino's 4-tiered Loyalty Club and given 2,500 free loyalty points. As you move up in level from Silver to Gold, Platinum, and Diamond, your rewards increase accordingly. Starting at the Gold level, you can look forward to faster earning of loyalty points, bigger and more frequent bonuses, and a special birthday bonus. VIP players receive even more-extra bonuses, free spins, and invitations to special events.
All players can also take advantage of weekly promotions like deposit match offers and special monthly promotions with the opportunity to win great prizes. On top of all that, as a member of the Fortune Lounge, you have the option to compete in special daily and weekly slot and blackjack tournaments, including tournaments of the International Slot and Blackjack Leagues exclusively for Fortune Lounge members. You can also enter drawings to win a fabulous cruise. You definitely don't have to be a high roller to be treated like royalty at Royal Vegas.