Online Poker Room
Rating
Bonus
Payout
Compatible
Visit Room
Q: Is gambling online legal in New Zealand?
A: In 2017, there is no specific law that makes it illegal to gamble online in the country. Older laws prohibit New Zealanders from gambling with companies that are not properly licensed, but legal online gambling sites can make the argument that the laws are old, vague, and not applicable to the modern age of the Internet. In general, players feel safe on legitimate websites, and to date, no one has been arrested or prosecuted for playing general casino games on any legal gambling online site. Even the Department of Internal Affairs has determined that players gambling from their home computers are not committing crimes.
---
Q. How can I deposit and withdraw from online gambling sites legally?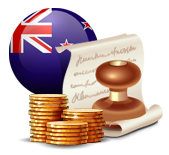 A: There are many legit options that allow players from New Zealand to deposit and withdraw from online gambling sites. Players may not be able to use a major credit card or debit card with a New Zealand-based bank, but there are many third-party payment processors that will facilitate a transfer of funds. No player has been prosecuted for making such a transaction thus far, and the law does not specifically address banking for online gambling legal websites.
---
Q. That sounds good. So, is real money gambling online legal in New Zealand then?
A: Yes. The laws from the 1970s obviously do not address the gambling online legal situation at all, much less making a difference between free play sites and real money gambling on the net. If the government has eyes on anyone in the legal online gambling realm, it is the bookmakers and sites that provide online gambling services, not the players. NZ players have not been, and will likely not be, the targets of any investigation for gambling on betting websites with money.
---
"There are many third-party payment processors that will facilitate a transfer of funds."
---
Q. Is online poker legal in New Zealand?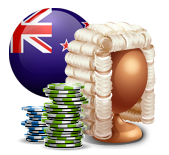 A: Online poker finds itself lumped in the same category as other types of online gambling, and the New Zealand government has made no distinction that poker is a game of skill. Having said that, considering that New Zealand is one of the fastest growing markets for the online poker industry, legal online gambling sites are gaining popularity. Customers are also beginning to demand legalization and proper clarification of existing law as it pertains to new and legitimate websites. Also, with major live poker events, such as PokerStars' Australia & New Zealand Poker Tour pulling in the players, it's only a matter of time before the legal situation sorts itself out.
---
Q. Is online sports betting legal in New Zealand?
A: No. This is something that is explicitly discussed in the 1970s bills, as bookmakers and people placing bets are both to be found in violation of the Law. Again, those statutes don't address Internet gambling, but players are generally aware that sports betting is frowned upon in New Zealand.
---
Q. Are online casino games legal in New Zealand?
A: The answer is best put into the terms of New Zealand online gambling sites not being illegal. While it's not explicitly legal to gamble online, the laws are open to interpretation regarding the Internet, such that no recent rulings have set any new precedent or deterred players from competing on online gambling legal sites. While a check with local laws is the wise move, players themselves need not be fearful of prosecution for indulging in online gambling, legal or otherwise.