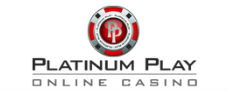 Platinum Play
100% up to $200
No Deposit Required Bonus: $1,500 in Free Bets*
First Deposit: 100% up to $200*
*See Bonus section for terms and conditions for withdrawal
Platinum Play Casino Review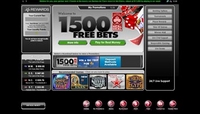 If one of your resolutions for 2021 is to find a good online casino, a few helpful suggestions should guide you into making a wise choice. If you have been playing awhile, you already know that finding a casino to take your action is easy, but singling out the best of the bunch from the mediocre ones takes some careful scrutiny. If you are new to online gambling, then you should not even think about playing at a place unless it comes highly recommended.
Platinum Play Casino is a first class operation worthy of your action whether you are an experienced player or a newbie, whether you are a slots or table games player, and whether you bet big or small. Unsurprisingly, savvy online gamblers the world over have found this place to be one of their favorite online casinos.
Platinum Play is the product of Digimedia, Ltd.,is legitimately endorsed by the Maltese regulator of online gambling, and a member of the esteemed Fortune Lounge Group of casinos. Unfortunately, at this time, Platinum Play is "no play" for anyone in America. But if you can play at this casino, what are you waiting for? There couldn't be a better time to join than right now so that you, too, can be part of the fun and excitement as the casino gears up to celebrate its 10th anniversary!
Gaming Selection and Graphics
Platinum Play uses continually updated technology developed by Microgaming, one of the most highly regarded online casino providers. So, even though Platinum Play is coming up on its 10th year in business, don't assume that the software and games are dated. Platinum Play makes use of the very latest technological advances in graphics, sound effects, and other playing enhancing features on a par with casinos just opening up for the first time.
You can access all of the Platinum Play games immediately by downloading its applications to aa laptop, desktop or other electronic device of your choosing. Another way to enjoy instant access to all of Platinum Play's games portfolio is by simply opening the casino site in your web browseror play on your mobile device.
Funding your account is equally easy. The only hard part will be deciding which of the 400+ games to hedge your bets at. Combining quantity with quality is what Micgrogaming casinos are all about, however, so no matter which games you choose, you are unlikely to go wrong.
---
"The only hard part will be deciding which of the 400+ games to play first."
---
Slot players can choose to play a range of thrilling real money games, or participate in Microgaming's own progressive slots, where the top jackpots can be life changing. Because all of the slots at Platinum Play belong to the Microgaming central shared prize pool, some of the jackpots climb to staggering levels and even the lesser payouts can be impressive.
As if all that isn't enough, with every new Microgamming release. Platinum Play slots players are sometimes given the first opportunity to try them.
If you prefer table games, Platinum Play has you covered, too. In addition to being able to play all of the traditional favorites like blackjack, roulette, baccarat, craps, and many more, if you wish, you can try your hand at different variations of some of these games. For example, if you want to play a typical version of roulette that you'd come across in a land based casino you can, but Platinum Play also offers European and French Roulette which give you better odds with just one "0" square on the wheel, as opposed to also having the "00" square commonly found on roulette wheels in America . You can also choose from several different ways to play blackjack. However, the site could provide more information about these game variations. That way, the rules-which matter in blackjack and affect basic strategy-won't come as a surprise.
Yet another option, which takes your Platinum Play to a whole new level, is to take part in your favorite real money games via live link-up. Players even have the option to choose a Playboy bunny to be your dealer. Imagine not only watching a real wheel in action or a dealer placing the cards on the table in front of you, but being able to actually talk to that person too and anyone else around the table or roulette wheel for that matter! But you don't have to just imagine it because you are playing for real and theexperience isjust like you would find offline if you were to visit a land based casino.
Security and Fair Play
Since the point of playing at online casinos is not only to have fun, but also to try to win money, quality is as important as quantity in deciding which casino would be a good bet. Platinum Play has been awarded the highest official grading for authenticity, which means you can play any game with confidence that you have a fair chance to win. Every title being offered is evaluated for fairness by the eCogra organization. And findings show that currently Platinum Play pays out on average 96% across its entire gaming portfolio collectively. To see the full report on the casino's performance for yourself you can access the findings from eCogra via their online portal.
The security of the site is another important consideration. At Platinum Play, the casino's real time digital encryption technology assures that when it comes to processing payments to your Platinum Play account, the privacy and security of your financial activity is protected.
Rewards and Member Benefits
Sign-up Bonus
If you have played at other online casinos, you have probably encountered some that give very large opening deposit match bonuses, only to demand the near impossible from you in return. It is not uncommon for sites to impose such big playthrough requirements for withdrawal, along with a multitude of additional terms and restrictions, few players are able to meet them.
The Platinum Play Welcome Bonus is refreshingly different. Rather than force you to start playing from day 1 at a higher level than usual and possibly risk more of your own money than you can afford, you can test the waters. You can ease your way into the games with a big bonus that will hardly risk your bankroll at all. This part of your Welcome Bonus amounts to $1,500, also referred to as 1,500 credits. The one catch is that you only have 48 hours to use it. The bonus is offered as "no deposit required," meaning that, if you wish, you can use it purely as play money. However, as long as you deposit at least $20 and play through all of the credits, you are allowed to keep any winnings, that don't exceed $100.
In addition, if you do make a $20 or bigger deposit on day 1, enjoy a 100% match bonus up to $200. If you use one of the preferred banking methods, the casino will give you an extra 10%. But before you can access your deposit, match bonus, and winnings, the bonus must be played through 40x. Furthermore, only slots and parlor games are valid toward meeting this requirement. Venture outside of these and you'll gain little benefit or not at all.
So, in practice, monetary incentive is all but irrelevant if you enter into non-slot play. But it is still a very good deal. Many casinos have higher bonus playthrough requirements and include not only the bonus but also your deposit in calculating how much you have to play. Some casinos then do not even allow you to retain the incentive being offered.
But what really makes the Platinum Play bonus special is that you can have fun betting on day 1 without any worry at all about possibly losing a ton of your own money if your luck isn't great. If you are new to casino gambling or your skills are rusty, you will really appreciate this offer. It allows you to sample lots of games and even make lots of bets at little or no risk to your own bankroll. ($20 is less than you would spend on a movie or dinner.)
On the other hand, the Platinum Play Bonus is not for everyone. If you are a high roller, accustomed to making big deposits and receiving big bonuses, you can probably find a Welcome Bonus elsewhere that suits your playing style better.
Loyalty Program
Platinum Play hopes you want the real money action to continue at the casino even once your initial sign-up reward has expired. So, like most online casinos, it has a loyalty program to encourage you to return often. Every time you play you receive loyalty points, which, once you've accrued a sufficient amount, can be redeemed for free casino credits to your account. Virtually all games count, but slot play earns points faster than table games.
In addition, from day 1, you become a member of the casino's 4-tiered (Silver, Gold, Platinum, Diamond) Loyalty Club. Everyone starts at the Silver level with 2,500 free loyalty points. As you work your way up, based on play, to the higher levels, your rewards become bigger and better. Gold level and higher players can look forward to faster point accumulation, bigger and more frequent bonuses, and a special bonus on their birthday. Those players who advance to top level rewards will also receive their own personal host, exclusive gifts, and dinners, trips, and be welcomed to tournaments that aren't available to lower tier members.
Not just high rollers but all players can get involved with the casino's special weekly and monthly promotions. In addition, you get all the extra privileges that come with being a Fortune Lounge member. One of them is the opportunity to compete in special daily and weekly tournaments, including tournaments of the International Slots and Blackjack Leagues, exclusively for Fortune Lounge players. You can also enter drawings and try your luck at netting a fantastic Fortune Lounge cruise.
Customer Support
If you have to speak to someone about your account, player rewards, or any other casino matter, Customer Support in a variety of languages is available to help you. The choice of ways you can contact Customer Support at Platinum Play include messaging, online support and being able to talk to an advisor 24/7.