No travel costs
Although new brick and mortar casinos are opening up in more locations than ever, for many people, they are too far away for access any more than on an occasional basis. Traveling to a major destination resort like Las Vegas usually involves an even longer trip, which when you factor in the airfare, hotel, and dining costs, can get extremely expensive.
You can be out a thousand dollars or more easily before you have even placed your first wager. In addition, job or home responsibilities may preclude many people from taking these long trips. Many people have illnesses or handicaps which make traveling to any casino virtually impossible. The substantial money saved in not having to travel means not only having more frequent access to the casino but a bigger bankroll for gambling.
---
You can play anytime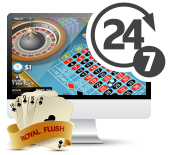 Even though most brick and mortar casinos are also open 24/7, you can't be there 24/7 to play. The other important activities, responsibilities, and commitments in your life-job, family, religion, hobbies, volunteer work, etc.-fill up a good portion of your time, which leaves you comparatively little extra time to get away.
Certainly, you can't take off on vacation anytime you have the whim to play in a casino, and if you start taking excessive time off from work or stay out all night to gamble, your job and home life will be in jeopardy. Online gambling offers the big advantage of being there for you at your own personal convenience, regardless of whether it is 4 p.m. or 4 a.m., regardless of whether it is every day, once a week, or once a month.
If you are playing online and having a bad run of luck, you can call it a day or night anytime. If you decide, for whatever reason, that the casino you have signed up to play at isn't for you after all, then you can stop playing immediately and take your business elsewhere. This is not always possible if you have traveled a long way to a land-based casino, where you might be staying a couple of nights, and which might be miles away from any other casino. Even if you are at the casino just for one day or night, if you are traveling with a companion or dependent on a particular mode of transportation, you won't be able to leave the place anytime you wish. You may have no choice but to continue playing even though you know it is not a good idea.
---
"When you play online, what you are wearing is nobody's business but yours."
---
No need to get dressed up
When you visit a land-based casino, you won't feel comfortable unless you are dressed like the other folks around you. Some casinos even have enforceable dress codes, and if the casino feels you are inappropriately dressed, you can be thrown out. If you wish to go out in the evening to a fancy restaurant or club, you will probably want to dress up. On the other hand, if you walk into the casino at 7 a.m. in your evening attire, you will be stared at.
When you play online, what you are wearing is nobody's business but yours. You can wear shorts or sweatpants, party clothes or pajamas, a 3 piece suit or your birthday suit. No one will know but you.
---
You can play at much lower limits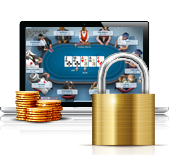 Another nice feature about playing online is that all levels of play are welcome. For example, you can play $100 slots if you wish and can afford it, but you can also play penny slots. Your blackjack bets can be for as little as a dollar a hand or for as much as $10,000 a hand. At many online casinos, you can even play for free, which you can never do at a land-based casino.
In other words, you can let your own bankroll and preference determine the stakes you wish to play for. You will not be forced to play for higher limits than you can comfortably afford.
This is not always the case at land-based casinos. For example, if you go there on a weekend or holiday (which is most likely when you will have the time available), you will find higher table minimums than during the less crowded weekday mornings. If your room is being comped, you have no choice but to give the casino the minimum requisite action at the limits that meet the casino's "guidelines."
---
You can play anywhere, including on a phone or tablet
Online gambling is now more convenient than ever, due to the fact that you are free to play not only anytime but anywhere. Most online casinos offer a choice of three ways to play: downloading the software onto your computer, accessing the non-downloadable instant play flash casino, and on mobile devices. The instant play flash version means you can play on any browser; you are not necessarily tied to your home computer. Or you can play many of the games on your iPhone, smartphone, tablet, or other mobile device. In other words, you can play all of your favorite casino games while traveling, waiting at the doctor's office, sunbathing on the beach, or anywhere else you happen to be with extra time on your hands.
In short, gambling online has become so convenient that some people lose sight of when enough is enough. But when done sensibly and in moderation, it is fun, exciting, and it doesn't have to be expensive.
---