From Roofer to Lucky Winner
Mick Gibbs
Odds: 1,666,666 to 1
Bet: 47 Cents
Winnings: $1 Million (combined)
Mick Gibbs was once a simple roofer from Staffordshire England. One day he decided to bet 47 cents on a 15 match competition parlay for the 2001 Championships League with Bayern Munich to defeat Valencia. With a parlay bet (a cumulative series of bets in which winnings accruing from each transaction are used as a stake for a further bet) he took 47 cents and made over $784,000 USD because the odds were 1,666,666 to 1 against him. Funny enough this was not the first time Mick Gibbs took a small bet and won big. In 1999 he predicted that Manchester United would win the Champions League and wagered $5. He won over $300,000 as it was also a parlay bet on multiple matches.
---
Mr. Anonymous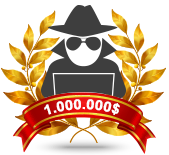 Anonymous Man from Malta
Odds: 683,738 to 1
Bet: $1.50
Winnings: $1 Million
On November 20th 2011, an anonymous man from Malta waited nervously as the 87th minute of the Liverpool versus Chelsea game began. He had placed a parlay bet for $1.50, and so far he had correctly predicted 18 of the 19 matches. Now the 19th match was down to the final minutes; he was so close to finding out if his small bet would payout in a big way. During the 87th minute, Glen Johnson made the winning goal for Liverpool. The anonymous man, who had made such a long shot bet, had just won over $1 million. When asked about his picks he stated that he was not a Liverpool fan before, but is now.
---
A Happy Birthday Indeed
Fred Craggs
Odds: 2,000,000 to 1
Bet: $1
Winnings: $2 Million
One dollar on an 8 horse parlay bet in 2008 made a man turning 60 into a millionaire overnight. He had placed the bet on horses with names that are just too good to be fiction. These include 'Isn't that Lucky' to the final winner 'A Dream Come True'. The final race was on. It just so happened that his 8th horse placed first. He quickly realized he had just joined the millionaires club.
He casually went home; keeping it a secret from his family that night at dinner. It was the next day when he came clean about his big win. As it turned out, the gaming rules at William Hill stated that they only had to pay out $200,000 because some of the races took place overseas. The company stepped up by ignoring the fine print and gladly handed him a $2 million check. At the end of the day, a 2,000,000 to 1 long shot bet was certainly worth paying.
---
"He bet that Lewis Hamilton, then 13 years old, would win a F1 World Championship by the age of 25 with the odds at 500 to 1. "
---
A Vision Told Him
Adrian Hayward
Odds: 125 to 1
Bet: $400
Winnings: $50,000
In July of 2005, Adrian Hayward had a vision of something spectacular; an event that would change his life. He saw Xabi Alonso scoring a goal from the opposite end of the field at some point in the season. The vision was strong he decided to place a bet. With $400 and 125 to 1 odds, the bet was made. During a game against Luton Town, Xabi Alonso made a kick in the FA Cup 3rd round scoring an incredible goal and making Adrian Hayward one happy man.
From a vision in July to a cold Saturday in January, Adrian Hayward waited patiently to collect his £25,000 in winnings, which he did with a grin from ear to ear. Now that's a story with a happy ending.
---
Lucky Number 13
Anonymous Better from Peterborough
Odds 500 to 1
Bet: $200
Winning: $250,000
This has to be one of the greatest bets in sports history. A man with no name, from Peterborough, observes Lewis Hamilton, (now F1 World Champion), at the age of 13. He immediately notices potential. This man's own son used to go kart race with Hamilton which helped him to spot the young boy's talent for driving as well as, his passion for racing.
On May 13, 1998 he bet that Lewis Hamilton, then 13 years old, would win a F1 World Championship by the age of 25 with the odds at 500 to 1. He waited over ten years when in 2008, Lewis Hamilton won the F1 World Championship. The man won $250,000. He also collected $80,000 in the previous season from a $500 bet with 500 to 1 odds when Hamilton won his first F1 race. Now that's a "win-win".
This list of top sports betting wins could go on, but we'll stop here. If you have a favorite bet that's not listed above, we want to hear about it. Give us a shout.