Online Poker Room
Rating
Bonus
Payout
Compatible
Visit Room
Fast and Instant, Ready for Play
The best thing about using a credit card as a deposit method for online gambling is that it is almost always instantly available to use. Sure there may be a few minutes delay, but in general, you will feel as if is you're walking into a casino with real cash in hand. Most online casinos that accept credit cards also allow you to attach multiple cards to an account. This gives you the opportunity to have access to an array of options ensuring you can gamble to your heart's desire (as long as it's done responsibly).
---
Types of Credit Cards That Can be Used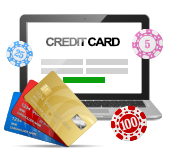 On this review site, you'll find an assortment of online casinos that accept credit cards. These sites generally offer the option to make a real cash deposit with between one and ten different card types. These include popular global brands like Visa, MasterCard, Discover, Bank Issued Cards and Diners Club. Some of the less popular cards include Capitol One, Chase and Citi. The later options do seem to be appearing on the online gambling sites more frequently, so be sure to check this page for regular updates.
---
Making a real cash deposit using a credit card couldn't be easier
If you're ready to start gambling online, credit cards are one of the fastest, most reliable options. All you need to do is follow these steps:
Step 1: Find an online gambling site that takes credit cards. Check out our reviews first!
Step 2: Sign up for a free account.
Step 3: Choose a credit card in the banking section.
Step 4: Load money into your account and start playing.
Step 5: Don't forget to collect your real cash deposit.
---
"The best thing about using a credit card as a deposit method for online gambling is that it is almost always instantly available to use."
---
Fees and Limits
Online gambling sites can choose whether or not to charge the user a fee when using a credit card. Generally, if there is a fee, it is between two and four percent of each transaction. It's a good idea to check whether or not there are any withdrawal and/or deposit limits as well. Online casinos may have set daily or sometimes monthly limits which can be frustrating for frequent players. Often these can be raised if you are a regular on the site. In addition, many credit card issuers also have a set amount of money which can be added to your bankroll. Give your card company or bank a call to see whether or not any restrictions apply.
---
Gambling Bonuses for Using a Credit Card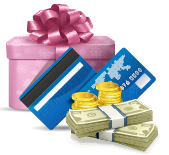 With online gambling, credit card deposits are not only easy, but they may also be extra beneficial in that you receive additional welcome bonuses or loyalty points. Before you start to play for real cash, do a check to see if this is available.
---
Our Top Pick Gambling Sites for Credit Cards
We have gone through the trouble for you and have compiled a list of the best and most rewarding online gambling sites that accept credit cards as a deposit method. Because there were so many incredible sites out on the World Wide Web, we evaluated other important aspects. These include trustworthiness, fees, limits, bonuses, rewards and more. With this, we bring you only the top online casinos where you can play instantly using just a credit card. Good Luck!
Frequently Asked Questions
Discover the answers to your questions about credit card gaming below.
Can I use my credit card for online gambling?
You can use most credit cards from most countries for online gambling and it is one of the quickest and most convenient ways of payment. The US is one of the main countries which forbids the use of credit cards for online gaming purposes.
Do they generally allow gambling payments?
They usually do, although it depends on your country of origin and the provider of the credit card service. Some credit card companies will not accept cash payments into the account through the card, so you will have to request a bank transfer from the casino every time you want to withdraw your winnings.
What credit cards are accepted?
Most internationally accepted cards are good for online gambling, too. MasterCard, Visa, DinersClub and Maestro are only some of the many cards most casinos will accept. There are also less common cards being accepted by some casinos, so check your preferred casino's payment options before signing up.
Which ones are recommended?
Visa, MasterCard and Maestro seem to be some of the most popular and commonly accepted types, so if you have one of those you will be safe.
Are they safe?
Credit cards are a very safe method of payment, as long as you choose a reliable and well-recommended online casino that takes your privacy and security seriously.
How fast are transfers?
Credit card money transfers are instant – they are the fastest way to pay anything online. Keep in mind that online gaming sites might have daily or monthly limits put in place, which can hamper your game if you are a regular player. Your credit card company will also have withdrawal limits, so update yourself on their current limits and policies to guarantee smooth play with no interruptions.
Are any fees involved?
Usually, credit card deposits are charged a 2-4% fee, but the online casinos can choose whether to charge that fee or not. Moreover, many online casinos offer a welcome bonus if you are using a credit card as a payment method.