Online Poker Room
Rating
Bonus
Payout
Compatible
Visit Room
What is an eCheck?
If you've ever taken the time to write out a check to make a payment for goods or services, you're already a step closer to knowing what an eCheck is. This is simply a payment that you will directly make to the casino. The funds will be removed from your banking account and added to your casino account. Sometimes this is instant, but more or less the entire transfer will take between 2 and 5 working days. Keep in mind that there may be nominal fees when using this online casino deposit method.
---
Steps to using eChecks as a deposit method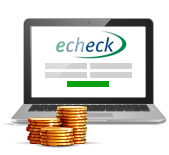 Step 1: Pick one of our top eCheck online casino sites
Step 2: Signup and choose eCheck as your deposit method
Step 3: Enter your banking details and the amount you wish to transfer
Step 4: Wait to see the funds in your account. As soon as they're there, you can start having fun
---
Benefits of using eChecks
There are many online gambling sites that accept eChecks in part due to the plethora of benefits it offers to players. First and foremost, using this payment option is just like real cash coming from a bank account; no credit is involved and therefore you cannot gamble what you don't have.
Using eChecks requires no extra third party signups to get started. So, if you're not into Neteller, PayPal or Skrill, you may find this method of payment right for you. Should you not have access to a credit card, eChecks will likely be the easiest way to start gambling for real money.
One of the most obvious reasons to play at an online casino that accepts eChecks is the fees and limits. For many avid gamblers, these can add up overtime and eventually become annoying. To avoid this hassle, you can make one large deposit using an eCheck. There will be a small fee, but it will be nothing compared to some of the e-wallets or interest fees which will accumulate overtime.
---
"Should you not have access to a credit card, eChecks will likely be the easiest way to start gambling for real money. "
---
USA based gamblers love eChecks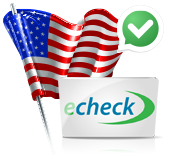 Unfortunately, US players often have to deal with credit card casino denials on a regular basis, and generally are limited to just a few different deposit methods, eChecks being one of them. Since 2006, eChecks have soared in popularity amongst US based gamblers. This is because it allows them to avoid a lot of the red tape, laws and regulations.
As an added benefit, for anyone in the USA, you'll find it easy to transfer real cash in USD and find it waiting in your bankroll in the same currency. This saves you conversion fees and even lost money.
---
Top online casinos that accept eCheck deposits
On this page, we've listed several online casinos that accept eChecks as a deposit method. We recommended trying out these sites because, although there are many more that accept this deposit method, they are not all are created equal. Save your time and put your effort where in counts (at the tables of course!). We have done the hard work for you and hand selected the sites we feel offer the best selection of games and events. These sites are highly trusted within the online gambling community, practice modern security methods and offer players incredible bonuses.
Plus, we are constantly monitoring all online gambling operators that accept eChecks to make sure you have the best experience. After all that's what we also are looking for in a good betting site.
Frequently Asked Questions
If you have any questions about eChecks, this is the right place for you.
What is eCheck?
It is an online check from your bank account to whoever you are paying. It was the popular method before eWallets were created and became an accepted form of online payment.
How do they work?
You choose eCheck as your preferred payment method at the online casino of your choice, enter your bank details, and give it a few days. As soon as it shows up in your casino account you are ready to play.
Do they allow online gambling transactions?
Yes, they do, and their use can even lead you to large welcome bonuses, so choose your gaming site with care.
How quick are payments?
This is similar to a bank transfer in that it is a slower payment method – it can take up to 5 days for the transaction to go through.
How do they compare with other methods?
Using eChecks can be cheaper than other methods, since there are no interest rates involved, transaction fees are usually low, and you cannot spend what you don't already have. They are also a direct method of payment, so you eliminate the third party present in eWallets and your money moves from your bank account directly into the casino's account.
Finally, eChecks are one of the few methods still available for US players to deposit money into online gambling accounts, so if you are based in the USA, this is the method for you!
Do I have to pay fees?
There may be minor fees involved in the transactions so it is best to check with your bank and online casino of choice before you sign up. Nevertheless, the fees involved in eChecks are usually lower than those accumulated by credit cards and eWallets so it works out well for you in the end.
Is it safe to use?
Since they come from your bank account but are just a check rather than a wire transfer full of bank details, eChecks are an excellent way of depositing money online directly from your bank account without worrying about its safety.