Online Poker Room
Rating
Bonus
Payout
Compatible
Visit Room
What is PayNearMe?
PayNearMe is an alternative banking solution that enables anyone who does not have, or want to use, a credit or debit card to make a purchase. Using participating online casinos, gamblers will choose the PayNearMe option to add cash to an account.
---
Steps for Using PayNearMe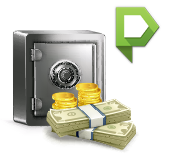 Step 1: Signup at one of our recommended online gambling sites
Step 2: Select PayNearMe as your preferred deposit method
Step 3: Choose the amount to fund your account with and print out the invoice (with barcode)
Step 4: Take the invoice (barcode) into any of the 17,000+ stores and make the payment
You now have funded real cash into your account.
---
Benefits of Using PayNearMe as a Deposit Method
For those of you who prefer real cash online casinos, PayNearMe is a great choice because it allows instant access to your funds. When using PayNearMe to fund your account, all you need to do is go directly into any 711 or Family Dollar store with a print out of the payment barcode. Alternatively, you can just show the counter the barcode on your smartphone and they will handle the rest. This means getting to all the excitement at your favorite casino is even easier. Factor in the 17,000+ stores within the United States, and you'll be wagering and winning in no time at all. Did we mention you can always play a few rounds of slots or poker on the go? That's right; our recommended PayNearMe casinos will offer a huge selection of mobile friendly games.
Unlike bank transfers, which usually take between 3 and 5 business days to clear, PayNearMe deposits clear immediately after you've paid. There is nothing to sign up for or verify, which means no waiting time in between the verification process.
---
"Our recommended PayNearMe casinos will offer a huge selection of mobile friendly games. "
---
United States Based Players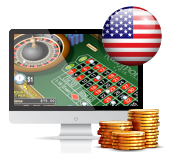 As of 2021, PayNearMe has avoided all of the nasty legislation and laws concerning money transfers and online gambling. Therefore, it has become one of the leading ways to transfer real cash into a bankroll. Of course, it's always a good idea to stay up to date with the various ways to make a deposit into a casino account. These seem to change on a regular basis, and so you can always visit our casino review pages or an online forum to find out new changes being made.
---
Recommend Online Gambling Sites that Accept PayNearMe
There are many sites that are now accepting PayNearMe as a deposit method. We know the online gambling world like the backs of our hands, and we also know how hard it can be to find a good casino. That said we've discovered the top picks for PayNearMe casinos. These are not just operators that accept this deposit method, but also offer the best bonuses, rewards, games and overall customer service. Of course, we only recommend online gambling sites that have a trusted reputation and implement the strictest security measures. Be sure you check these sites out. Give a few games a try using the demo mode; and when you're ready sign up for a free account. Don't forget to collect your welcome bonus exclusive to OnlineGambling.org.
Frequently Asked Questions
Looking for new ways to keep your online bankroll healthy? Read below to find out more about the PayNearMe system.
What is PayNearMe?
PayNearMe is a new system for depositing and paying money online that is anonymous, cheap and instant.
How does it work?
It is very simple and it does not require a credit or debit card. All you need is cash and a 7/11 or Family Dollar store near you. After you sign up for an online casino account, you have to choose the amount you would like to deposit and print out the invoice (or save it on your phone). Then you show the invoice to the cashier at the store, give them the cash amount and you are ready to play.
Do they allow online gambling transactions?
While you can deposit money, PayNearMe is not a system that supports withdrawals. In order to cash your winnings you will have to use another payment method. This could be a bank transfer or an e-Wallet, or a debit card.
How quick are payments?
Payments can be used immediately after you have paid the cashier. You don't even have to wait to get back home since many PayNearMe casinos also have mobile device games available.
How do they compare with other methods?
PayNearMe is instant and anonymous, and does not require you to have an e-Wallet account or bank account, or card, or anything else except cash. It is also secure for you since you are always playing with money you already have.
To use it, you need to live near a 7/11 store, which makes it perfect for US citizens, and it is one of their only options left for online gambling.
Do I have to pay fees?
There is a flat fee of .99 with every transaction you make, which is very low compared to other online payment methods.
Is it safe to use?
PayNearMe is a very secure payment method because it is anonymous and cash-only, so you cannot be scammed out of your money or have your identity compromised. Just make sure you choose safe and recommended online gaming sites so you won't lose money there.