Online Poker Room
Rating
Bonus
Payout
Compatible
Visit Room
What is PayPal?
PayPal is probably one of the most recognized payment systems in the world. Individuals and businesses can transfer funds electronically via bank account, credit or debit card. You can also send money from one PayPal account to another instantly and for little to no fees.
---
Easy to Start Playing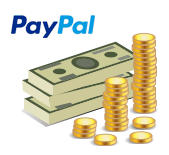 Step 1: Go to www.paypal.com and signup for a new account.
Step 2: Add payment details and verify all data required by PayPal.
Step 3: Find a suitable online gambling site and signup.
Step 4: Select PayPal in the cashier and add funds. This is typically instant.
One thing to keep in mind is that if you have just started a PayPal account, and would like to fund it using a bank transfer, you will need to wait a few days for the account verification and transfer to go through. If you're eager to start playing, we recommend trying other faster options like Ukash or paysafecard.
---
Who can use PayPal for gambling?
As an American payment processor, the regulations on gambling are quite strict, but as the saying goes "when there's a will, there's a way". Not all countries will be able to take advantage of real cash PayPal deposits; therefore, you should check with the casino and PayPal to find out if you are eligible.
---
"The real reason people love PayPal is their ability to keep them 100% secure. "
---
Safe and secure casino deposits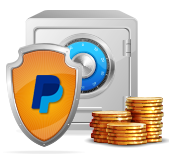 One reason for PayPal's' massive growth is how secure they have made their payment system. Sending and receiving payments is easy, but the real reason people love PayPal is their ability to keep them 100% secure. In some cases, this is more secure than their competition. Also when using PayPal, an email is all that is shown to the sender and receiver; all other data is optional which allows some relief of an anonymity concerns.
---
Transfers are fast and easy
PayPal has always made it easy for its users to get their money. Normally it takes between 24 and 72 hours from the time you cashed out of the online casino until the time your funds hit your PayPal account. From there, it will take another 3-5 business days to see your winnings in your banking account. Most sites have minimum withdrawal limits, and these are often between $10 and $20.
PayPal does charge its own fees for deposits and withdrawals, and in the event that currency conversion is needed there are normally additional processing fees. In reality, there are more affordable deposit options, but if safety is a concern, PayPal is a good choice.
---
The top online casinos that accept PayPal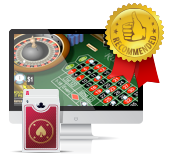 If you're after real cash gambling at an online casino, PayPal deposits can help you to get one step closer. On this page we've recommended the leading online gambling sites that accept PayPal as a deposit method.
You'll enjoy an excellent selection of games, well structured interfaces, impressive graphics, mobile apps and of course, huge bonuses. This is what gambling is about. So, stop wasting time, if you're ready to make a real cash deposit using PayPal, check out the sites we know you can trust and love. Get started now and collect a massive Welcome Bonus.
Frequently Asked Questions
If you'd like to use PayPal to fund your online gambling, here you can find all the relevant information to do so.
What is PayPal?
PayPal is the most common and accepted eWallet around, and this makes it the safest one. It is a way of paying online expenses instantly and anonymously.
How does it work
You have to link a debit or credit card to your newly-created PayPal account, which will first be verified, so sign-up can take a few days. Once verified you can deposit funds into PayPal that will become immediately available. You can also play without having deposited into PayPal, as the account can access your card's funds on its own, while you will have to go into your PayPal profile to request to cash your winnings.
Do they allow online gambling transactions?
You can receive your winnings straight into PayPal. From there you can withdraw your funds into your credit card, and the whole process usually takes up to a week.
How quick are payments?
Deposit payments are instant, while withdrawal payments are like wire transfers and can take a few days to become available cash in your bank account.
How do they compare with other methods?
PayPal is not as quick or cheap as some other methods, but it is one of the safest in terms of personal information: all your online casino will receive is the email address you have used to sign up for PayPal.
PayPal is also extremely secure, as it verifies transactions in many different ways.
Do I have to pay fees?
There are some fees involved in transfers that you should research before making an account. There is also a small flat fee for withdrawals. Further, there are also fees for currency conversion. PayPal is in fact one of the more expensive online payment methods but it is very safe.
Is it safe to use?
Being the biggest and most-used online payment service, PayPal uses some of the best security procedures that exist in order to keep you and your money safe. It has multiple layers of safety embedded in its system to ensure that it is only you who can use your account, and then only intentionally. Nevertheless, it is still easy and convenient to use.