Online Poker Room
Rating
Bonus
Payout
Compatible
Visit Room
What is a prepaid card?
A prepaid card is exactly as it sounds. You will purchase the card at a bank, store or online and load money onto the card. This can be done by direct deposit or in person at specific reload locations (which you should be able to find on the prepaid cards' website). A prepaid card will have a logo on it which will likely be MasterCard, Visa, Discover, Maestro or Amex. This simple means your card is backed by these corporate financial institutions, offering you security and peace of mind.
Most countries have some sort of prepaid card; however, the requirements to get one may vary. For example, some countries may require ID while others will not. Some cards will have higher maximums than others as well as, different fees for activating them.
---
How to Use a Prepaid Card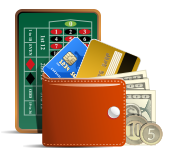 Step 1: Find and purchase a prepaid card. You can use our site to read about a few prepaid card variations like paysafecard.
Step 2: Pick one of our recommend prepaid card online casinos and sign up for a free account
Step 3: Go to the cashier, select the method and enter your card details
Step 4: Wait a few minutes to see the real cash in your account. Collect your bonus and start winning.
---
A growing acceptance of prepaid cards
As online casinos become more accepting to innovative payment methods, prepaid cards have quickly risen to the top when it comes to easy ways to add real cash to an account. Prepaid cards also allow sites to accept new players from countries where it was difficult to play mainly due to legislation regarding their citizen's rights to gamble online. At the time of writing this, prepaid card deposits at online casinos were readily available at our favorite operators. You can take a look at our top picks here on this page.
---
"Prepaid cards also allow sites to accept new players from countries where it is difficult to gamble online. "
---
Safer and secure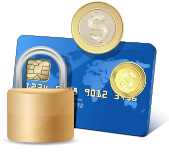 One of the major benefits of using this deposit method is the safety and security. Prepaid cards are typically not attached to any other banking account or card which makes them perfect for using online. This is primarily because should you misplace your card, there is really nothing that you will lose apart from the card itself. Prepaid Cards are as secure as any credit card and are backed by all the same security features. However, you will not need to attach personal or financial details to your card; this may be a big plus to anyone who cares about their anonymity.
---
Cost and fees attached
As with all deposit methods, you will at some point come across some sort of fees. They may be in the form of interest or standard transaction fees. Most prepaid cards are fairly cheap when purchasing; in fact, some banks will give them away to existing account holders. If the latter is offered to you, a minimum load amount may be required. In general, you can purchase a card for between $3-10. There may also be a monthly convenience charge which is a few dollars. One thing to keep in mind is that there will be maximum load amounts; these will depend on the card itself. Finally, most cards have expiration dates. For example, if you do not use your card in 6 months to 1 year, you may lose what you have one it.
A prepaid card is easy to get
Frequently Asked Questions
If you would like to fund your online gaming with Prepaid Cards, here we have collected some important information for you.
What are Prepaid Cards?
Prepaid Cards are cards usually issued by a bank that have a preset and prepaid amount of money in them. They usually carry an international logo like Visa or MasterCard and can be used like any other debit card when it comes to paying.
How do they work?
Once you have made an online gaming account, you can choose card as your payment method of choice. Soon after you input the prepaid card's number into the account, its funds will become available for you to play with.
Do they allow online gambling transactions?
You can pay with them. Unfortunately, prepaid cards lack the feature of bank cards to be able to receive funds since they are not tied to an account. In order to withdraw your winnings you will have to use another payment method, such as an eWallet account or a debit card.
How quick are payments?
Soon after you type in the card's number you can see its funds become available as cash you can use to play in the online casino of your choice.
How do they compare with other methods?
Prepaid cards are usually anonymous or nearly so, with very little personal information involved in their handling. They are also quick in their transfers, and quite simple to use compared to other methods. Since they usually carry a credit card logo they also come with a lot of security features embedded in them.
Do I have to pay fees?
When using a prepaid card you will have the usual bank and transfer fees involved in credit and debit card use. You might also have some fees specific to the card, such as small monthly taxes. The main issue here is that prepaid cards can have an expiry date, beyond which the money in them disappears, so research them well before investing.
Is it safe to use?
Prepaid cards are one of the safest, most secure and private ways to gamble online, and they are available to US citizens, too. As always, choose reputable casinos at which to spend your money to make sure that you do not get cheated. Look for lists of tried-and-tested online casinos.